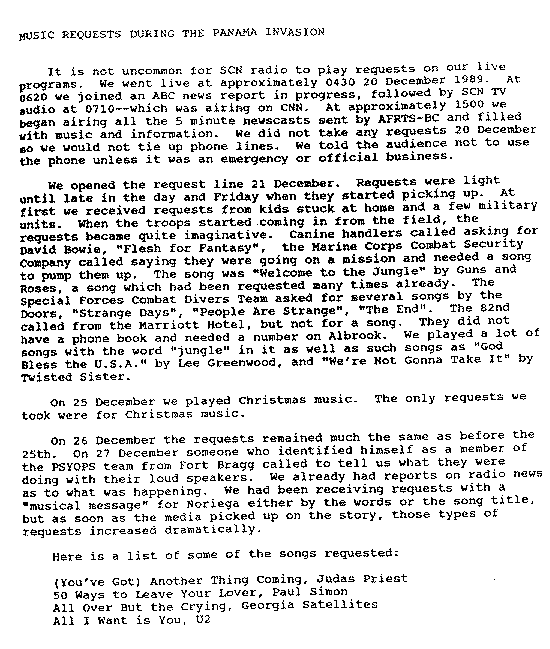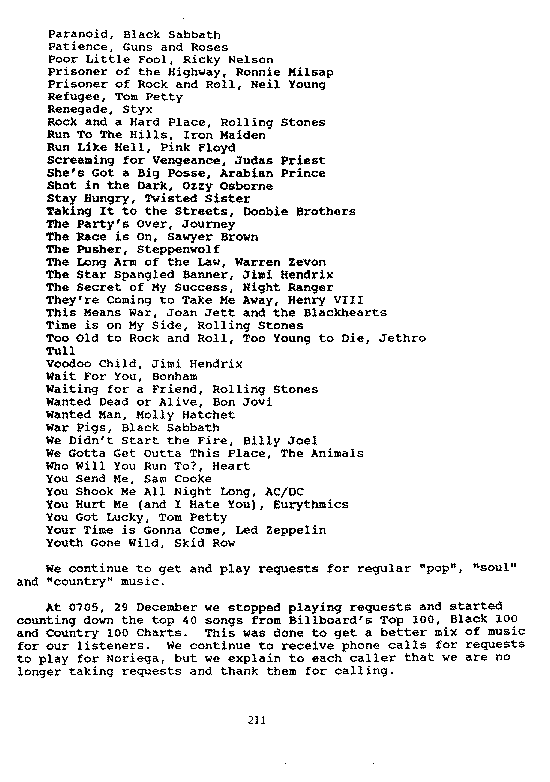 In December of 1989, the US government invaded Panama to secure the arrest of President Manuel Noriega on drug trafficking charges. During the 5th day of the siege, Noriega requested refuge at the Apostolic Nunciature, the embassy of the Holy See. American forces surrounded the embassy, but could not enter the building or fear violating international law and upsetting Catholics worldwide. Instead of storming the embassy and taking Noriega by force, the US Army broadcast local Armed Fored Network radio station SCN through loudspeakers placed around the embassy day and night for 10 days until embassy staff told Noriega that he had to go. The playlist was largely curated by the 4th Psychological Operations Group out of Fort Bragg, but SCN took requests as well. Noriega was known to be a fan of opera.
Also in 1989, John Oswald, building on his 1985 essay "Plunderphonics, or Audio Piracy as a Compositional Prerogative" and 1988 proof of concept EP, released Plunderphonics, an album that featured 25 songs by very well known artists sampled and reworked. Although Oswald's sources were scrupulously acknowledged and the recordings given free of charge the album was determined to be in violation of Canadian copyright laws. In December 1989, under the threat of legal action Oswald relinquished the master tapes and all undistributed copies to the Canadian Government, which had them destroyed.
Tonight's program is an ode to John Oswald, a plunderphonic journey through the siege of Panama, composed of the songs played by US SOUTHCOM and the PSYOPS team from Fort Bragg during Operation Just Cause.
Playlist courtesy of the National Security Archive at George Washington University.
listen

Broadcast date: October 5th 2015
KCHUNG Los Angeles 1630AM


---